Featuring WaterLily's patented HydroElectric Charge System, WaterLily 12V converts moving water or wind into 14.6 Volts of usable electricity, perfect for powering portable power stations while off the grid.

- 14.6 Volts regulated
- Patented HydroElectric Charging System
- Daisy Chain with additional turbines for additional power
- Dimensions: 7" diameter x 3" thickness (180mm x 76mm)
- Weight: 2.85lb (1.3kg)

FREE WORLDWIDE SHIPPING above $75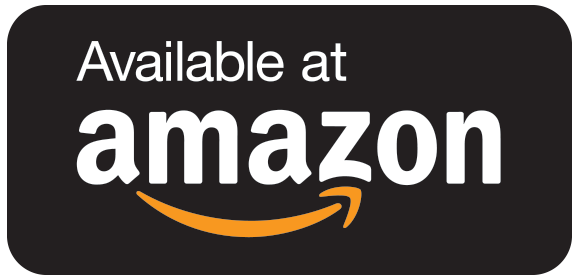 WaterLily 12V outputs 14.6 Volts; industry standard for charging 12V systems. You can charge any device with 12V input, from high end power banks to regular lead acid batteries.

WaterLily 12V's 2-Pin SAE connector allows users to connect to a growing list of power stations and devices. This rugged connector is widely used and has plenty of adapters on the market - perfect for both standard and DIY applications. We've also included a Car Accessory adapter to help get you started!

Need more power? Easily daisy-chain WaterLily 12V with any number of additional turbines or to supercharge your charge rate. Perfect for commercial or power hungry applications, as well as permanent installations. See more in this video.

12V was built to travel with you. At just 7 inches in diameter, it fits in any pack, kayak or canoe! A perfect way to capture energy away from home.

Our 12V Turbine uses our same great patented HydroElectric Charge System thats found on WaterLily USB. Our efficient blade design means you can convert both water and wind into energy for your devices!

Charge for 24 hours a day, rain or shine. Use WaterLily 12V in rivers for a constant stream of power - even while you sleep!
★★★★★

"I left it in the ravine all night and it fully charged my Goal Zero yeti 400 power bank, I just couldn't believe it.
Not even my 60w solar panel would fully charge it when left out in the California sun all day, this little charger is truly awesome..."
Miguel M, California
February 2019
★★★★

"They have proven to be sturdy and reliable for keeping small devices going and storing up power using the 12v model.
I've also used to 12v model to ensure my truck battery stays topped up when far from assistance."
Daniel C, Michigan
Both WaterLily USB and 12V Owner
February 2019
★★★★★

"I have both the USB and 12v turbines and I am extremely happy with both appliances. I could not be happier with performance and quality of both units."
Jack Y, United Kingdom
Both WaterLily USB and 12V Owner
January 2019
★★★★★

"I took my 12V WaterLily camping the day after I received it. It worked so well! I tested it in fast moving rivers and slow moving streams.
It ended up being so popular that I left it out for others to use!"
Kat D, Massachusetts
January 2019
★★★★★

"Installed into a small river, works like a champ"
Urs B, Switzerland
January 2019
★★★★★

"Light weight, lots of power for its size"
Mark D, Canada
February 2019
Minimum Charge Speed
In Water: 0.28 m/s (1 kph) (0.62 mph)
In Wind: 3 m/s (10.8 kph) (6.7 mph)

Output and Connectors
Output: DC 14.6V
Up to 2A
Up to 15W
Connector: 2-Pin SAE
Charge Cord Length: 10 feet (3.05 meters)

 
Weight and Dimensions
2.85 lb (1.3kg)
7" diameter x 3" thick (180mm x 76mm)
In The Box
WaterLily 12V
2-Pin SAE to Car Accessory Adapter (SAE J563)
25' (7.62m) of 550 Paracord
2 x Stainless Steel Carabiner
4 x 300mm Stainless Steel Lanyard
Instructions Card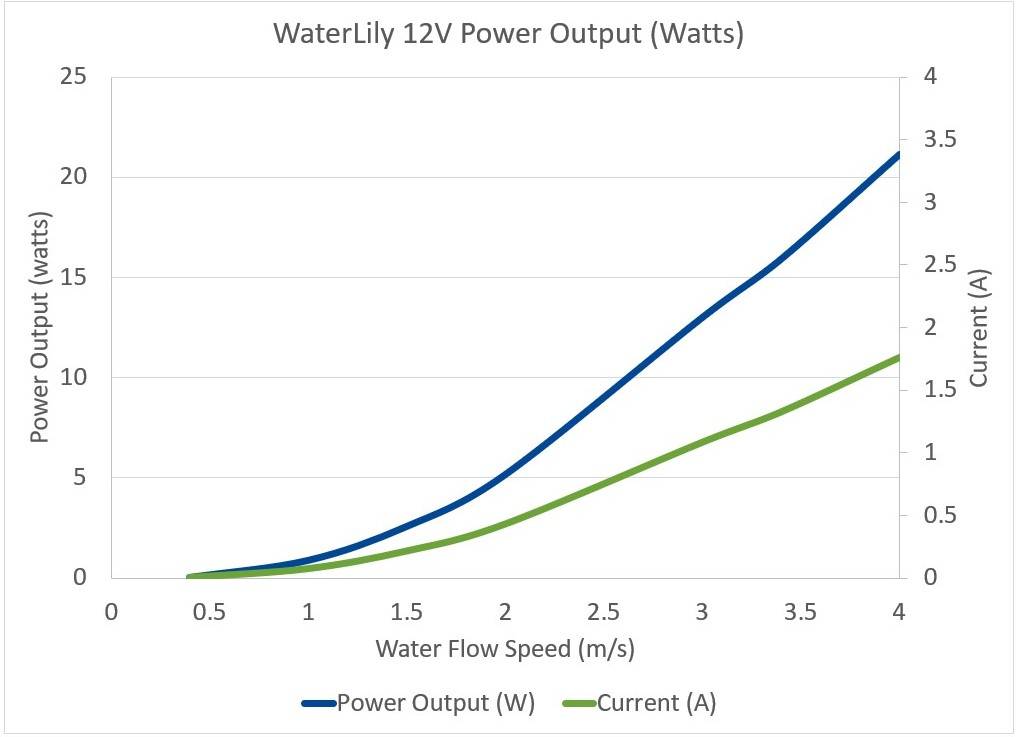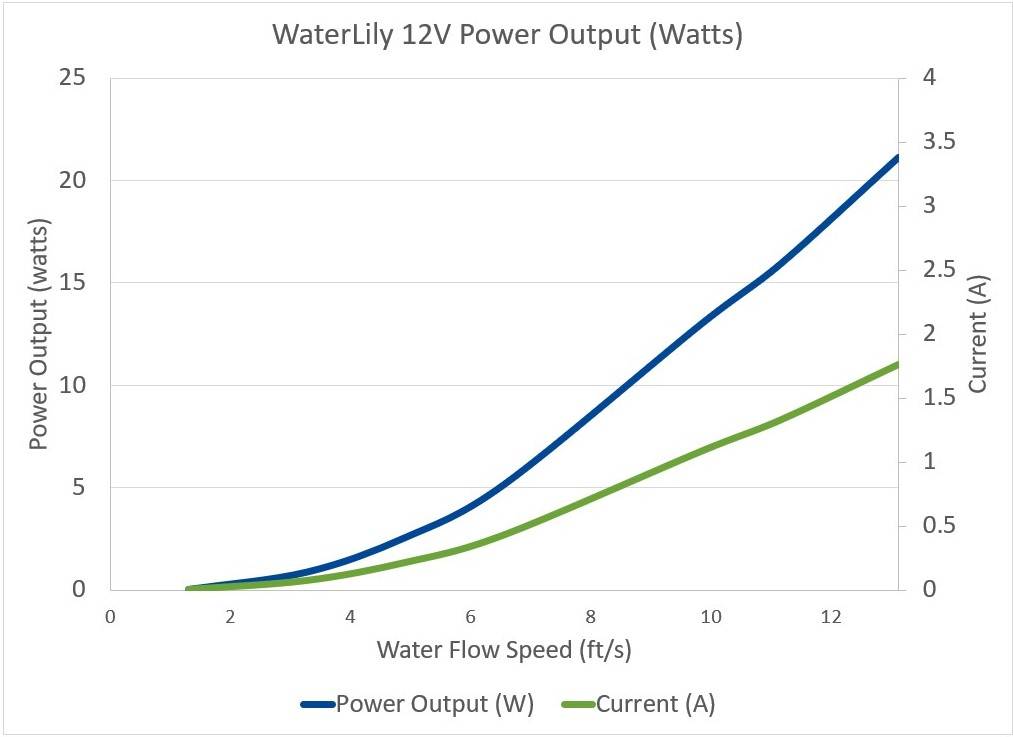 Connect Multiple 12Vs for More Power
---
Yes! One of the great things about WaterLily 12V is that you can chain multiple turbines together harness to supercharge your charge rate. See more in this video.
What is WaterLily 12V? Who is it designed for?
WaterLily 12V is designed for users who want to power more than just small personal devices. It packs the same great HydroElectric Charge System as WaterLily USB, but with regulated 14.6V output. This is ideal for larger power stations, or even lead acids found on sailboats and RVs.

What kind of connector does WaterLily 12V ship with?
WaterLily 12V ships with a 2-pin SAE connector. We wanted to make sure that our system is as universal as possible for our 12V customers, and the SAE connector is a great choice for this while also leaving flexibility for our DIY customers. We've also included a Car Accessory adapter (SAE J563) with each unit to make this even easier.

How much bigger is it than WaterLily USB?
Our customers have told us that they love the portability of WaterLily USB, and we didn't want to sacrifice this with the 12V. With this in mind, we're happy to say that we've kept WaterLily 12V at the same dimensions as the current version - 7 inches in diameter and 3 inches in depth.

Can I daisy chain WaterLily 12V?
Yes! One of the great things about WaterLily 12V is that you can chain multiple turbines together harness even more power for your power stations. See more in this video.